Our objective is to provide our students with the necessary skills in an easy to understand Core based training system, creating good muscle memory.
This training is offered to all private citizens. We at Kingdom Firearms Safety Training we feel this is a very effective approach in training that should be covered for the vast majority of second amendment supporters. Then it's up to the student that has trained from these levels of training to continue applying those learned techniques and skills in order to maintain a high level of proficiency with their firearm of choice.
Other availables training courses
Inside the Home Protection.

Scope settings and adjustments.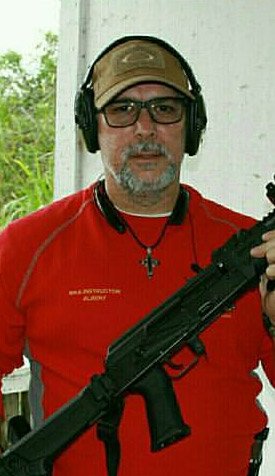 Adalberto Barranco
CEO / Instructor
My experience with firearms began in 1985, from hunting to recreational shooting. In 2015 I took my Instructors course with Novo Arms and became a firearms instructor. Since then I have trained students in Firearms Safety and getting their Concealed Weapons License, helping them to enjoy the outdoors and take advantage of their Second Amendment Rights. In addition to my Instructors training I have also acquired knowledge and Certificates on, Inside the home protection, Shotgun, Rifle and One on One Hand Gun training.